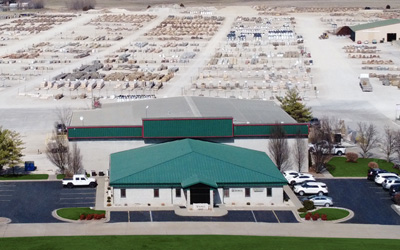 We have the products.
Your source for natural landscape & building stone.
As one of the largest distributors of natural stone in the Midwest, the Semco Stone yard occupies over 60 acres with an abundant inventory of both landscape and building stone. Semco has a long-standing reputation of having one of the most organized stone yards in the country.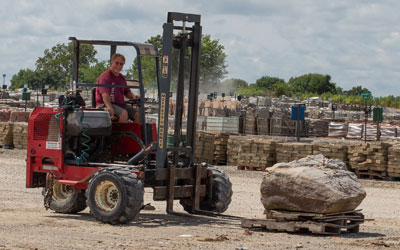 WE HAVE THE EXPERIENCE.
Our employees are industry experts & here to help.
With hundreds of years of combined experience, our sales and support staff can help find the products you need for any size project. Since 1988, we have been helping contractors, builders, distributors, nurseries, landscapers, garden centers and retail outlets across the country.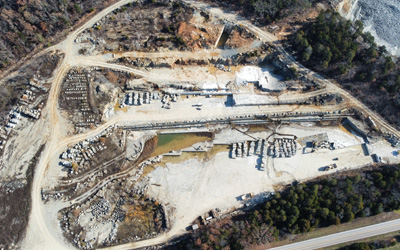 We HAVE THE QUARRIES.
In our quarries we try to exceed industry standards.
Semco Stone is located in Perryville, Missouri, near the Mississippi River, and resides in the heart of Limestone Country. Our local quarries Blue River and Cedar Ridge provide a bountiful harvest of eight distinctively different limestones.
At Semco Stone, we've earned our reputation by consistently supplying high-quality natural stone and manufactured hardscape products, and are committed to delivering excellent customer service. By owning and operating our own quarries and fabrication facilities, we provide a natural, quality product that we know from start to finish. Our products range from a variety of quality, natural landscaping and building stones, to some of the most popular paver products, and outdoor living products. This includes our massive supply of flagstone, pattern flagstone, decorative gravel, cobblestones, fire pits, edging, natural stone veneer, concrete and stone pavers, and so much more.
Why Choose Semco Stone
Our unbeatable selection, expert knowledge and reliability makes us the obvious choice for your next project. Quite frankly we have more selection to make hard jobs, easy.
Natural Stone Variety
Our extensive selection of different styles and colors of natural stone products allows you to find exactly what your customers want and is sure to leave a lasting impression.
Logistics are covered
We dispatch our own fleet of equipment regionally and have vast partnerships in the transportation industry nationally to make sure all logistics are covered.
One-Stop-Shop
We save you time, money and the hassle of dealing with multiple suppliers. We can provide all the materials for any size commercial or residential project.
Custom Fabrication
Semco Stone has a fabrication facility, tumbling and bagging operations with some of the best machinery, the best managers, craftsmen and operators in the industry.
Looking for a Contractor
If you are a homeowner we can recommend a contractor or landscape service based on where you live and the scope of your landscape or building stone project.